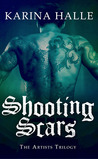 Shooting Scars
by
Karina Halle
My rating:
5 of 5 stars
5 PHENOMENAL STARS!!!!!
After that crazy ending of Sins & Needles, I have been waiting and waiting to read Shooting Scars. It was well worth the wait. An intense, emotional, amazing read that will have your heart beating out of your chest just waiting to see what is going to happen next...
We have
Ellie
... at the end of Sins & Needles, Ellie had a huge decision to make. She chooses. It's a sacrifice she is willing to make.
Ellie is tough. She is strong. She isn't perfect, in fact, she is the exact opposite of that. There were times when reading this, I just wanted to scream at her... but the decisions she made, I understood. I may not have agreed with all of them, but I understood. Ellie does want to move from her past, become a better person- it's just the situation she is in makes it difficult. I haven't given up hope on her. I look forward to seeing where she goes with this in the third book.
This story was written in dual p.o.v. (which was fantastic) so not only did we get into the crazy mind of Ellie, we also get into Camden's head...
OH my
Camden McQueen
... if it's possible, I loved him more in Shooting Scars than I did in Sins & Needles. He was amazing. Sexy, tattooed, pierced, if that isn't enough... loyal, devoted, willing to do whatever it takes, sacrifice what he must to find his girl. He and Gus have quite an adventure in this one. Gus gives some pretty sound advice.
"Ellie has a good heart in her, hidden, but it's in there, and you bring that out. You're good for her and you're good for each other. Don't you forget that."
There is just something about Camden. He is a protector. A lover, but also a fighter.
He made me feel safe, whether I was in his arms or at his side or just in his presence. For the first time, I had a protector.


Then... of course, there is
Javier
. What can I say about Javier. I have such conflicting feelings about him. He is sexy as sin, powerful, charming... but he is also deceitful, self serving and puts the revenge he needs over anything and anyone. Javier is just Javier. He's not the villain in my eyes anyway. I actually like him a little in this book... I may be a bit 'in lust' with Javier. I just can't help it...
'We all know love and hate. Hate is the other side of the coin. It takes one good toss to get it facing down. It can happen quicker and easier than you think."
There was love, sacrifice, betrayal... this one had it all. 

This story will blow you away. I want to talk about the plot and go into the story, but I think it's so important that you get that feeling, that effect when reading it... if you know whats going to happen, the suspense won't be there so I'm just going to leave it at that.
These books are addicting. Once you start this one, you won't be able to put it down. Fast paced. Intense. Powerful. Suspenseful. Keeps you on the edge of your seat the entire time. They aren't predictable. Not at all. This is one of the most wonderful and original series I've ever read.MUST READ SERIES!!!!
As much as I liked Javier in this one (crazy, I know!) It's safe to say that I am still loyal to Camden xoxo

After you read this one... you must tell me-
Who's team are you on???