Real
by
Katy Evans
My rating:
5 of 5 stars
5 SERIOUSLY SMOKING HOT STARS!!!
We'll get right to it... The main attraction:
Remington 'Riptide' Tate
This guy is too much. Too much male. Too much masculinity and pure raw beats. Put together, he's just like sex on a stick.
One thing you should know about him right away...
And just a warning, this book will get you
Okay, okay... now for the actual review.
Brooke gets dragged to an underground fight one night with her best friends Melanie. Brooke isn't the type of girl that usually goes to these types of things. She is a recent college grad and is specializing in sports medicine/therapy. Brooke spent most of her life training for the Olympics, until she hurt her knee. Now she is just interested in helping other athletes. While watching the last fight, she see's someone that gets her attention. Remington. He notices her right away. Remy is a very popular fighter. The whole crowd is cheering for him. But he only has eyes for Brooke.
"Your name"

"Uh, Brooke."
"Brooke what?"

"It's Brooke Dumas.
"
"Brooke Dumas."

He just fucked my name right in front of me.

Brooke feels the heat from Remy. She has never had these types of feelings. Pure lust. Remy gets ahold of Brooke and invites her to the next fight. She goes, expecting to get with Remy. He offers her a job. Go on the fight tour with him for the next 3 months. She accepts. As Brooke and Remy get to know each other, they communicate mostly through lyrics. Each picking songs to play to each other on their ipods describing how they feel. (LOVED this)
The longer they are together, the more the sexual tension between them builds... and builds... and builds... It gets to the point where the reader is ready to combust, along with Brooke! But Remy knows Brooke is special. He wants to take his time with her, let her really get to know him.
Remy has another side to him. A side no one really see's, except his PA Pete, and his two coaches. He wants Brooke to know everything, but he is afraid she will run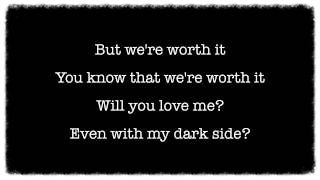 Brooke finds out,
(view spoiler)
[Remy is bipolar and has very drastic highs and lows, manic episodes to the extreme. (hide spoiler)]
but she doesn't care. She is already in too deep with Remy. She wants to be with him.
He's my fighter, and I really want to fight to be with him.
Remy wants to make sure things are REAL between them before they take that step.
"Why'd you want to have sex with me? To have a fucking adventure? What was I supposed to be? Your one-night-fucking stand? I'm every woman's adventure, damn you, and I don't want to be yours. I want to be your fucking REAL. You get that? If I fuck you, I want you to belong to me. To be mine. I want you to give yourself to me- not Riptide!"
And once they do... HOLY HELL IT IS HOT!!!!!
Everything is good for a while... Brooke and Remy are inseparable. There are some smoking hot scenes... Seriously! Wow- Remy, wow. In the gym on the mats, shower, bed, anywhere and everywhere. Remy cannot get enough. It's all good.
"It's because of you. I am deliriously happy. Completely at home wherever you are."
Then Brooke finds out that her sister is trouble... does something completely DUMB and Remy finds out... It triggers an episode from there. Are Brooke and Remy strong enough to survive one of his episodes, or will they crash and burn...
How I felt about REMY-
He's not just a star, he's the whole fucking sky to me. He's the sun and every planet in the galaxy.
I freaking loved this man! READ THIS NOW JUST TO MEET REMY!!!! Never in my life have I been that turned on by a fictional character. He is hot, sexy, sweet, and damaged. My perfect man! He has a messed up and tortured past, his parents are awful, he's been through a lot- but he is just all kinds of WONDERFUL!!!!!
I did like Brooke most of the time too. She aggravated me once or twice with her poor decisions, but she always meant well. I understood why she did what she did. I loved how she was with Remy.
This one is going straight on my favorites shelf!!! CANNOT WAIT FOR THE SEQUEL!!!! Looking for a hot read and a new book boyfriend- READ THIS!!!
View all my reviews