From USA Today and Wall St. Journal bestselling author, Emma Scott, comes the third and final novel in the Lost Boys series--a gritty, angsty love story about two lost souls searching for their place in the world, and what it means to be truly found.
The Last Piece of His Heart by Emma Scott is now live!
At Santa Cruz Central High School, they called them the misfits, the outcasts, the weirdos. But most of us knew them as the Lost Boys...

Ronan Wentz has been to hell and back, and he carries the scars to prove it. Worse, the blood of a monster runs through his veins. After ten years in foster care, eighteen-year-old Ronan is finally reunited with family. His uncle gives him a roof over his head and puts him to work, managing a shabby apartment complex in Santa Cruz, California.

But a second chance is still a second chance. Ronan becomes a solitary hunter, a vigilante, walking the streets at night to keep the nightmares at bay. If he can use the anger burning in his tainted blood to protect instead of hurt, maybe then he'll find the absolution he seeks.

Then he meets Shiloh.

Shiloh Barrera looks like she has it all together. Smart, ambitious and full of artistic creativity she channels into making beautiful one-of-kind jewelry. But Shiloh's cool, capable demeanor is all a front. Her demons drive her to succeed as much as her ambition. To prove her worth to the mother who can't stand to look at her, and who's harboring secrets of her own.

When Shiloh and Ronan meet, the physical attraction is instant and scorching. Neither believe it will last. Falling in love is an impossible pipe dream saved for those less shattered and damaged than they are.

But as hard as they try to resist, the growing feelings between them seem inevitable... until one terrible night destroys Shiloh's dreams and Ronan's future. When the smoke clears, and the rubble settles, they'll have to choose - do their pasts determine their future, or can they build a new one from the broken pieces of their hearts?

Lost Boys is a new series of interconnected, coming-of-age standalones from USA Today bestselling author Emma Scott.
Download today or read for FREE with Kindle Unlimited
Amazon US: https://amzn.to/2LyFYOS
Amazon Worldwide: mybook.to/TLPoHH
Add to Goodreads: https://bit.ly/3oBtMKS
CHRISTY'S 5 STAR REVIEW
The best thing about reading an Emma Scott book is I always know I'm going to love it, I just don't know what level of love it will be. Well, I'll be shouting about this one on the rooftops for a while, because not only is it the best book in her 'Lost Boys' series, it's easily the best book I've read so far in 2021. This book made me feel, made me cry so hard, but also had so many heartwarming moments. This series is the epitome of the found family troupe and I love this group of characters so much.
Ronan Wentz shows up in Santa Cruz as an eighteen year old senior in high school who's aged out of the foster care system after ten years in. He's staying with his uncle (sort of) by helping him manage an apartment building. Ronan hasn't had a family since he lost his mother as a child. But he meets two boys, just as lost as him in different ways who become brothers to him, Miller and Holden. Then, he meets her. Shiloh Berrera.
On the surface, Shiloh has it much more together than Ronan, and in some ways she does. In other ways, she's just as lost as him. One thing Shiloh does have is an incredible Bibi (her great grandmother) who's raised her since she was four. Words can't express how much I loved Bibi and how she was with not only Shiloh, but also Ronan. Shiloh and Ronan become friends when put together, and they're attracted to one another, but it seems impossible to be together. Still, they can't fight what they're feeling.
"So how about no labels? No rules. We'll just do our best and maybe land somewhere..."
All that Ronan wants is to keep Shiloh safe and to have her. He's not sure if he can have both. And keeping her safe is always his top priority. I admired him for that. He's the kind of guy who never puts himself first and would do anything for those he loves. He's got the biggest and softest heart even though he has a rough exterior, his heart always shines through.
Shiloh can be standoffish at times and she's very goal driven, but it's only because she wants to be her best and feels like she has something to prove. She's also just as loyal as Ronan and both of them haven't had easy lives. There were some big things I could relate to Shiloh about and because of that, her story really touched me. Ronan though, his past wrecked me. This one had me sobbing at one point. I just felt so much so hard, but it was all necessary.
None of the main characters in this book (or this series) has a traditional family, but they make their own family. They become each others family. And sometimes, the family you choose is so much greater than the family you're born into. This series sheds such a light on that and I love it so much.
The Last Piece of His Heart
completely broke me, but it also put me back together. Emma's writing is phenomenal and this story was truly epic. This is an unforgettable story and one of Scott's very best. I can't recommend it enough!
That's what you did with good and precious things. You held them tight and took care of them. I could do that. I could keep her safe and have her too.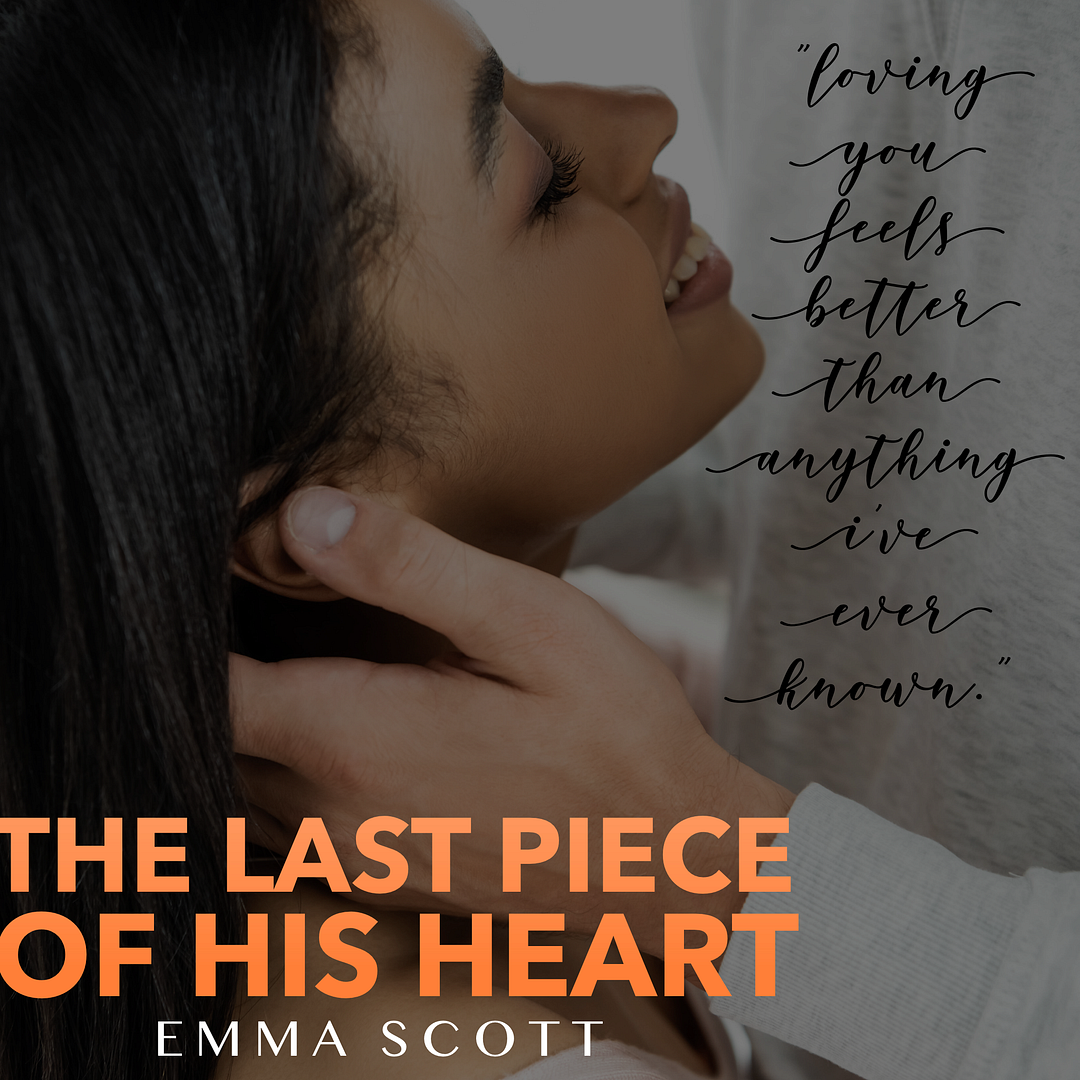 Meet Emma
Emma Scott is a USA Today and Wall St. Journal bestselling author whose books have been translated in five languages and featured in Buzzfeed, Huffington Post, New York Daily News and USA Today's Happy Ever After. She writes emotional, character-driven romances in which art and love intertwine to heal, and in which love always wins. If you enjoy emotionally-charged stories that rip your heart out and put it back together again, with diverse characters and kind-hearted heroes, you will enjoy her novels. Visit www.emmascottwrites.com
RECENT RELEASES
Someday, Someday (M/M standalone)
A Five-Minute Life (standalone)
Bring Down the Stars (Beautiful Hearts #1)
Long Live the Beautiful Hearts (Beautiful Hearts #2)
Get your binge read on (and grab your tissues), The Lost Boys series is now complete!
"At Santa Cruz Central High, we called them the misfits, the outcasts, the weirdos. But most of us knew them as the Lost Boys."
The Girl in the Love Song (Lost Boys #1) : http://bit.ly/2MLnYhU
When You Come Back To Me (Lost Boys #2) : http://bit.ly/37BsCHh
The Last Piece of his Heart (Lost Boys #3) : http://bit.ly/2QeVlfa
You can follow me at all the places...
Connect with Emma
Super-cute NON SPAMMY newsletter: http://bit.ly/2nTGLf6
Author page: https://www.facebook.com/EmmaScottwrites/
Reader group: https://www.facebook.com/groups/906742879369651/
Website: https://www.emmascottwrites.com/
Goodreads: https://www.goodreads.com/author/show/10405165.Emma_Scott
Amazon: https://amzn.to/2yUnFKJ
Instagram: https://www.instagram.com/emmascottwrites/
Twitter: https://twitter.com/EmmaS_writes
Bookbub: https://www.bookbub.com/authors/emma-scott
Book+Main: https://bit.ly/2ZWw91B