We are so excited to be participating in the Release Week Event for Emeralds by K.A. Linde. Take a sneak peek into the book below and make sure to enter the giveaway for a chance to win a signed set of the entire series (Diamonds, Gold and Emeralds)!
Walking away from him was easy.
Then he shows up late one night at Trihn's ballet company, and all bets are off. Trihn knows that she should be careful. But when it comes to Preston Whitehall, she throws all her carefully constructed reasons for not dating out the window.
He's cunning, charming, and hot as sin. And he knows exactly how to use those qualities to get what he wants. Soon, Trihn is dragged deeper and deeper into his rapidly intensifying whirlwind.
But where a storm is brewing…destruction and devastation follow.
Find out how Trihn goes from prodigy to party girl in this sexy full-length prequel to Platinum in the USA Today bestselling author K.A. Linde's All That Glitters series.

PLAYLIST:


If you've read the first two books in Linde's All that Glitters series, you know Trihn. She is one of Bryna's best friends.
Emeralds
is a prequel of sorts to what happened with Trihn leading up to her move to Vegas.
Trihn is a New York girl. She's a dancer. An overachiever. The summer before her freshman year of college, something unthinkable to her happens… she falls in love. There is this guy named Preston that completely sweeps her off her feet. She's never felt this way before and the more time she spends with Preston, the harder she falls.
I shouldn't be surprised when Linde pulls out these big guns, but it seems I always am. This book shocked me. And I was a little (lot of) outraged. The turn the story took… just wow. I knew something would happen but this? Honestly, I'm a pretty easy going reader but this part of the story made me go from loving this story to not feeling all the love. By the end I felt good about the choices Trihn made, but there was a moment… Every reader has a few things that just irk them and this book pushed those buttons.
Even with the drama and stomach sinking moments, I am anxious to see where the angst queen herself takes Trihn's story. Kyla has a way of making her characters flawed and real, so even when you're frustrated with them, I like that they're not cookie cutter characters. They make mistakes, screw up, and are real. It's life. With the next book, I'm curious to what kind of appearances Ian, Preston and Lydia will make. You have my full attention here!
If you're looking for a story with great writing, a lot of steam, even more angst- this is one I would recommend for you.
FIVE FUN FACTS ABOUT EMERALDS
Emeralds is primarily set in New York City. I went there for a weekend to do research for this book, and all of the places they go to (even if not specifically named) are real!
Trihn is a ballerina at a dance studio in the city. Name changed from what it is in real life, but based off of the New York City ballet.
I danced all forms of dance growing up and recently took up pole dancing. These are all centered around Trihn as she is a very accomplished dancer. All the moves she does in ballet or otherwise are real choreographed steps!
This is the first book I've ever written in romance where the main character has an older sister.
Trihn is basically the polar opposite of Bryna, the main character from Diamonds and Gold. She was really fun and difficult to write, because she is incredibly nuanced and has a personality that compartmentalizes her feelings and relationships depending on who she is with. I think that's why Bryna and Trihn work as friends. Bryna holds Trihn up, and Trihn holds Bryna back. You'll get to know Trihn so much more in this book and come to love her!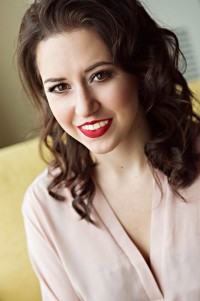 USA Today bestselling author K.A. Linde has written the Avoiding series and the Record series as well as the new adult novels Following Me and Take Me for Granted. She grew up as a military brat traveling the United States and Australia. While studying political science and philosophy at the University of Georgia, she founded the Georgia Dance Team, which she still coaches. Post-graduation, she served as the campus campaign director for the 2012 presidential campaign at the University of North Carolina at Chapel Hill. An avid traveler, reader, and bargain hunter, K.A. lives in Athens, Georgia, with her husband and two puppies, Riker and Lucy.
---