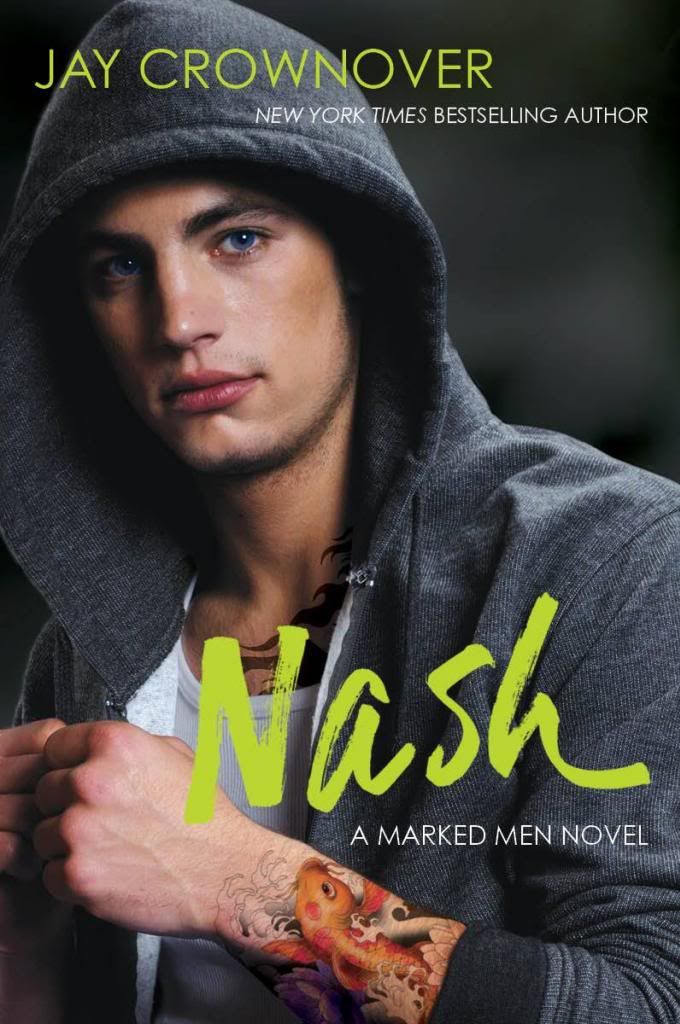 Title: Nash (Marked Men #4)
Author: Jay Crownover
Genre: New Adult/ Coming of Age
Publication Date: April 29, 2014
Publisher: William Morrow Paperbacks, an imprint of HarperCollins
Synopsis
Will their past determine their future?
Saint Ford has worked hard to achieve her childhood dream of becoming of nurse. Focused on her work and devoted to her patients, there's no room for love. She doesn't need a guy making waves in her calm, serene life—especially when he's the unforgettable hottie who nearly destroyed her in high school. Dark, brooding Nash Donovan might not remember her or the terrible pain he caused. But he turned her world upside down . . . and now he's trying to do it again.
Saint has no idea that Nash isn't the cocky player he once was. Uncovering a devastating family secret has rocked his world, and now he's struggling to figure out his future. He can't be distracted by the pretty nurse he seems to meet everywhere. Still, he can't ignore the sparks that fly between them —or how she seems so desperate to get away from him. But the funny, sweet, and drop-dead gorgeous Saint is far too amazing to give up on—especially since she's the only thing in his life that seems to make sense.
When Nash discovers the truth about their past, he realizes he may have lost her heart before he could even fight for it. Now, Saint has to decide: is Nash worth risking herself for all over again?
Review:
5++ Nash is MINE stars :)
Yay! I am ready for some more Marked Men! Jay Crownover has a huge fan of her Marked Men series, I can't get enough! Her writing is brilliant, the characters are AMAZING, I seriously want to crawl inside the book and become a part of their world. I figured that Rome would be my favorite...but nope. Nash has stolen my heart!! His story is breath-taking and beautiful.
Each story Jay's writing becomes better and better. She reaches out of that book and grabs your heart for these characters. You can't help but fall in love with each and every one. As soon as I finished I wanted to go right back to the beginning and start all over again. Sometimes being able to read a book early is a blessing and then times like these you wish you would have waited. I NEED MORE MARKED MEN NOW!! <------seriously an="" i="" intervention="" lol="" nbsp="" need="" span="">



So I'll be (im)patiently waiting for the next book in the series. And just like before, fall in love all over again. Jay Crownover is an automatic buy for me, she never disappoints with her work.

------seriously>
About the Author
I'm supposed to share interesting details about myself so that my readers get to know me so here we go in no particular order: I'm an natural redhead even though I haven't seen my real hair color in years, I'm a big fan of tattoos and have a half sleeve on either arm and various other pieces all over the place, I've been in the bar industry since I was in college and it has always offered interesting insight into how men and women interact with each other, I have 3 dogs that are all crazy, I live in Colorado and love the snow, I love music and in all reality wish I could be a rock star not a writer or a bartender but I have zero talent so there is that. I love to write, love to read and all I'm interested in is a good story with interesting characters that make the reader feel something. Thanks for taking the time to check my stuff out...