Christy's Review: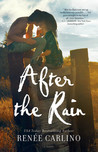 After the Rain
by
Renée Carlino
My rating:
4 of 5 stars
4-4.5 stars
"Sometimes love can be easier to find than purpose, but I don't think it's any less important."
After the Rain
is an emotional journey of two broken people who are both in a bad place. Both looking for peace, for healing, and just may find it in the most unlikely of places.
Avelina is a young woman who has been through far too much tragedy in her short life. She fell in love young, she married young, then it was all taken away from her. The beginning story of Avelina and Jake started out beautiful and turned into a completely heart wrenching tale.
Avelina still works on a ranch in Montana. She survives day in and day out but she hasn't lived in a long time. She keeps to herself. The people that work at the ranch that used to feel like family are now more like strangers. She's closed herself out completely unable to open up to anyone. Then Dr. Nate Myers shows up and changes everything.
Nate's life is work and his work is his life. He has no time for anything personal. It's all about work. He's a cardiac doctor who works entirely too much. Working in the medical field, you know that one mistake can uproot your entire career. One mistake made Nate reevaluate his entire career. With all the work, he forgot the real reason why he wanted to be a surgeon in the first place.
Nate has to get away for a while, take a break from his busy life. Get to the root of things- get some perspective. He heads to the ranch in Montana where his uncle is. He's out of his element there, but he needs this time to clear his mind.
From the moment Nate lays eyes on Avelina, he can tell there is something about her. Something beautiful and something broken. Even though he's warned to stay away from this beautiful yet intimidating stranger, he can't.
"Why do you want to be around me?"





"Because I like you."
I loved the connection Avelina and Nate had. You could feel it. It wasn't insta-love, but it was that instant pull. They both had struggles, they were both broken characters, but with time, they were able to come together, to start healing themselves and one another.
Avelina was a frustrating character at times, but any time I got frustrated with her because of her standoffishness, her stubbornness, I remembered. I remember what happened to her and why she was the way she was. I had compassion for all she had been through.
Nate was fantastic. I adored him. His strength, his patience, and his understanding. Avelina needed someone like him in her life. And those letters... oh boy. Those made me cry.
"They reminded me of you, but then again everything reminds me of you."
Renee Carlino has this writing style that just blows me away. I love reading her books. They suck me right in.
After the Rain
was no exception. The writing was truly wonderful- I could visualize all the surroundings perfectly and there was a great flow. The story was beautiful and emotional. I felt while reading this book. I laughed, I cried, I swooned over Nate. The only reason that this wasn't a solid 5 star read for me is the last little bit of the book. I had a few small issues with things leading up to the end, but it was still a great read. This is a very well written story that I would highly recommend!
No matter how devastating the storm may be, after the rain you'll always find new life sprouting in the aftermath.
View all my reviews
Kara's Review:
After the Rain by
Renée Carlino
My rating:
4 of 5 stars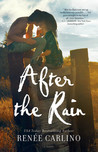 This was my first book that I have read by Carlino... and I loved it. I was sucked in from the first page. I loved the style of writing. I loved the characters. I loved the setting. Hell, I think I even love Ms. Carlino.
This book was about love. Lost love. Finding love. Finding balance. Finding yourself.
I will be looking back to find more books by Renee Carlino! I am excited to read her again.
**ARC received for an honest review from Atria Books | Simon & Schuster publishing company!**
View all my reviews
A note from Jhanteigh Kupihea, Renée Carlino's editor:
I'm so pleased to present a copy of After the Rain by Renée Carlino, a gorgeous contemporary romance that explores the second chances waiting beyond the shattered dreams of youth.
To read a Renée Carlino novel is to laugh, cry, and fall in love, all while doing some serious soul-searching. As with her first two women's novels, Sweet Thing and Nowhere But Here, Renee gives us a young, beautifully complex protagonist who must search for meaning and a sense of self after a devastating tragedy, all while navigating matters of the heart with the man who could be The One, if only she can get over the one who came before.
Early readers agree that After the Rain is to be cherished. New York Times bestselling author A.L. Jackson said, "[It] tore me up in the best way possible…goes straight to the list of my all-time favorites." New York Times bestselling author Mia Sheridan said, "Heartbreaking, hopeful, and beautifully written…Books like this make my heart feel full."
At this point, I can't make it through Renée's books in one piece. For those of you who read After the Rain and agree, I invite you to share your reactions and favorite quotes on Twitter, Facebook, and Instagram with the hashtag #ReneeRuinedMe after it pubs on November 11. I think you'll find a whole community of readers who feel the same way.
Happy Reading!
Editor
Atria Books
ABOUT THE AUTHOR:
Renée Carlino

lives in Southern California with her husband, two sons, and their sweet dog, June. When she's not at the beach
with her boys or working on her next book, she likes to spend her time reading, going to concerts, and eating dark chocolate.
To learn more, visit ReneeCarlino.com.