Stripped
by
Jasinda Wilder
My rating:
4 of 5 stars
4 stars!!!!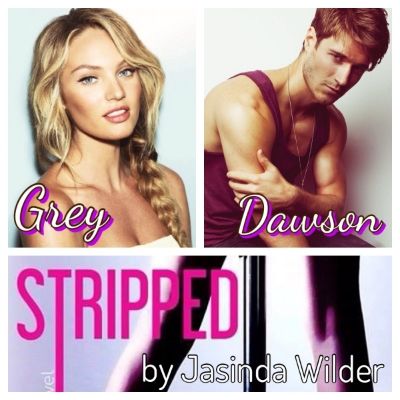 Grey Amundsen grew up living a very sheltered life as a pastor's daughter. Grey's father is very strict. He wants Grey to have nothing to do with anything he deems to be sinful or ungodly... and that's about everything. Thankfully, Grey has her mother on her side. Grey's mom used to dance and talks her father into letting Grey dance. Dancing is a release to Grey. As she gets older and starts to become her own person, she finds she also has a passion for film. Things take a dramatic turn in Grey's life. She has to go to the college she wants to, follow her own dreams no matter what that means for her life and her relationship with her father.
Grey is in California going to film school. She keeps to herself mostly, works hard to get good grades. She wants to excel. After a few semesters at school, she finds herself in a bit of a bind. Something is wrong with her financial aide at school and she doesn't have much money left. She has to get a job and pay her own way. She can't go back to Georgia. She won't. She will do whatever she has to do. No one is hiring. No job, no money, no school. Whats a girl to do? Well... there is one job hiring. Grey Amundsen, 20 year old virgin applying for a job to be a stripper???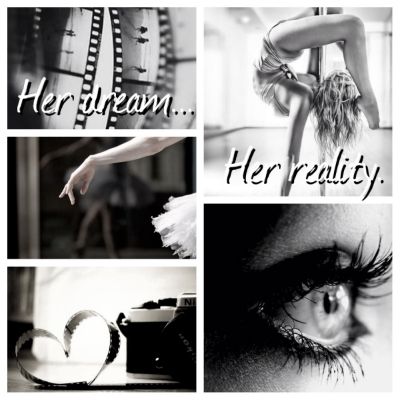 Although stripping is the very last thing Grey ever wanted to do, it brings in the money she needs to continue with school and thats all that matters. It makes Grey ill doing it, but she knows it is only temporary. She is almost to graduation, she has a good internship lined up, things are on the right track for her, even if she is playing the role of Gracie at the local strip club.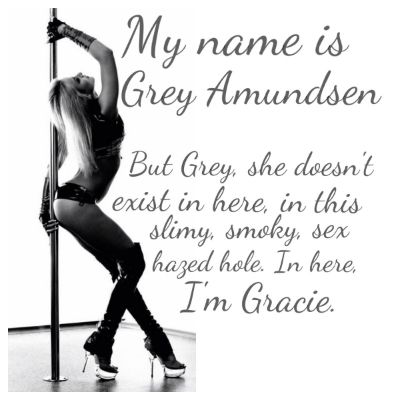 The night before her internship, Grey is at work. She has a private party. There are only a few guys there. She recognizes the first few as actors, then she sees him. A big name film star, Dawson Kellor.
Dawson Kellor. My heart stops, my breath catches. I've seen pictures of him, I've seen him in his latest films. But none of that does him justice. Not even close.
Dawson appears to be a rich, spoiled, rich actor, but he sees something in Grey. When he first lays eyes on her, he knows she is different. There is something about her. The next day, Grey starts her internship and her two worlds collide.
Dawson has it bad for Grey. He is enamored with her. Grey has no idea what someone like Dawson Kellor would see in her. She is a plain jane from Georgia who strips for tuition. He could have anyone. On top of all that, she is inexperienced and she knows he is not. Dawson is a man used to getting what he wants, and he wants Grey.
"Girlfriends are a dime a dozen. I could snap my fingers and have six girlfriends, one for every day of the week and Sunday off. I don't want that. I've had that. It's boring. I want you."
Eventually, after Grey continually pushing Dawson away, she starts to let down some of her walls and let Dawson in. All he wants is to help her, he cares about her, wants her. Desires her.
I know I shouldn't let this happen, that I'm crossing some line I shouldn't cross, but I won't stop it. He's touching me; he owns me. He knows exactly what I need, what I want, even if I don't.

Dawson and Grey together... it was HOT.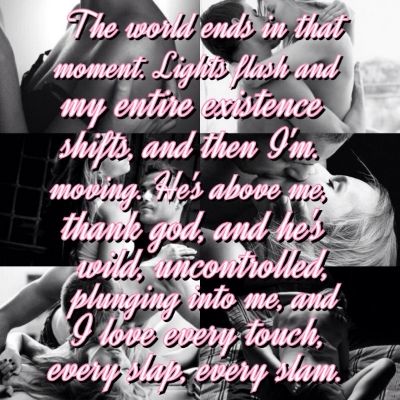 Not only do these two have a connection, and a lot of heat between them, there is more than that. Even though they are very different people from different backgrounds, they get each other.
'You make me feel like I'm sone one, and not because I'm Dawson Fucking Kellor, either.'

'You make me feel alive, Grey. And... I love that feeling.'
Grey gives Dawson what he has always needed. Someone to keep him grounded, someone who actually makes him feel something for the first time in his life. Dawson was all kinds of cocky, protective, possessive, sexy, sweet and amazing. Loved this guy. He was good for Grey- she was able to be herself with him. Not the person her father wanted her to be, not the good quiet student who worked too hard to enjoy anything in life. Grey drove me a little mad at times, but she grew on me by the end of the book. I especially loved the two of them together.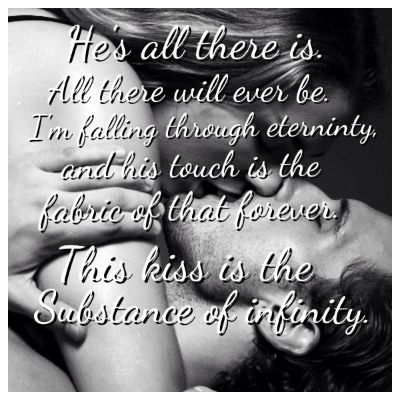 A story about a young girls journey to leave her sheltered past and become her own person. I wouldn't call this a light read, although I had a few laughs, but it wasn't exactly heavy, I did shed a few tears. It was that good in between.
Stripped
wasn't exactly what I was expecting... it's not a bad thing, it was just a much different read than
Wounded, Falling Into You, or Falling Into Us.
If you are expecting the same type of story, the same type of feelings, you will be let down. But don't let that stop you from reading. The writing is still incredible, the story was original, I enjoyed the characters, it was overall a very good read. For some reason, it just didn't hit that 5 star mark for me like I was hoping, but I still enjoyed it and would recommend for anyone looking for a fun, sizzling hot stand alone read. (Yes, you read that right... STAND ALONE :D)
View all my reviews