Happy Release Day Barbie Bohrman! Starting Over is LIVE! #OneClick #romance

Single mom Vanessa Holt has a daughter she loves, a supportive family, and her art. Having given up on finding true love—if that even exists, which she doubts—she's content to put romance on the back burner. But not everyone agrees. Those nearest and dearest are ready to see Vanessa let down her long blonde hair and have some fun.
To put their grumbling to rest, Vanessa agrees to date the first man who asks. Luckily for her, that man is Cameron Thomas, her daughter's extremely handsome science teacher. She'd felt a spark of chemistry the first time she'd laid eyes on him. Now she's ready to lay a whole lot more on the sexy bachelor.
But just as things get hot, they also get heavy. When the man who broke Vanessa's heart reappears, her old doubts and fears about love rush to the surface. Will her fresh start with Cameron be over before it's barely begun?

Starting Over
is the third Barbie Bohrman book I've read and it's safe to say I'm a fan. Barbie knows how to write lovable characters, great family dynamics and fun, yet heartwarming stories.
Playing it Safe
is by far my favorite of hers. I'm not sure if anyone could top Julia and Alex. But guess what- you get some Julia and Alex in this story. It's Vanessa's book, and Vanessa is Alex's older sister.
I remember Vanessa and Josie fondly from
Playing it Safe
. I loved them both and their dynamic as a mother daughter duo. It's been just Josie and Vanessa for so long, Vanessa doesn't remember any other way. Josie always comes first.
Josie's been my partner in crime since the day she came into this world. It's always been us against the world. And I will always put her first before anything or anybody, including myself.
When Vanessa meets Josie's science teacher, she is instantly attracted and having feelings and thinking things she hasn't felt or thought in a long time. Josie is totally on board with her dating. Especially if it's Mr. Cameron Thomas. Vanessa wants to try, but she still has her reservations. Cameron is understanding and patient with her, but at the same time knows when to say something and when to push.
"When will it ever be the right time for you? Because, if you think life will ever get easier, it won't. Sometimes you have to take a chance."
Just as Vanessa starts to realize starting over might be okay, something (or someone) re-enters her life and shakes everything right of her axis.
Starting Over
is a tale of just that- Vanessa starting her life over. I found this story sweet, heartwarming and lovable. I do wish that we got more scenes with this couple. I wanted more Cameron and Vanessa scenes!I like how much Barbie's books focus on family, and this family is fantastic. Overall, I enjoyed this one. 4 stars!

True love's kiss . . .
It sounds so innocent and hopeful, and taken at face value it's a chaste promise of romance and never ending, undying love brought on by a simple kiss between two people. However, when you think about, at least as much as I have, when exactly would you know with all the certainty in your heart that a kiss is the true love's kiss?
Does it exist merely in fairy tales? Or, if the right man comes along, does his love for
you and all the passion in his heart somehow flow through that barely there brush of lips against yours, until your own heart is overflowing with an emotion that you've never felt before? And as a result of this
one little kiss, will you fall head over heels and madly in love with this person, forsaking all others for the rest of your life and vice versa?
The dreamer in me loves the allure of the fantasy. However, the realist in me has a hard time wrapping my head around the whole idea because, really? One kiss could have that much power? I highly doubt it.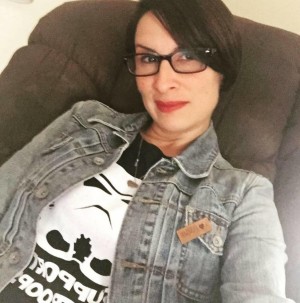 Born and raised in Miami, Florida, Barbie Bohrman dreamed of becoming an author. Long after she had given up, a book club's prologue contest enticed her to give it one more go. What emerged were the beginnings of her debut novel, Promise Me. Now she's living her dream and writing stories that entice readers to escape and break away from reality. When she's not writing, you can find her trying to get through the books on her Kindle (more than a thousand at last count) or watching Lost or Seinfeld. She currently resides in New Jersey with her husband and two children.