The first novel in a steamy spin-off series from the national bestselling author of the Salon Games novels...
On the surface, Sebastian "Baz" Valenti is a rock god with the lifestyle to match. With his drop-dead gorgeous looks and his band, Baseline Sins, at the top of the charts, he can have any woman he wants. But the constant touring and recording has taken its toll. Now he's turned to scoring films, a gig that has introduced him to the one woman he really wants but can't have...
Trudeau Morrison is all business all the time. As the managing director of ManDown Films, it's her job to keep Baz focused on business too. It's not an easy task, considering Baz has made no secret of his desire for her. But Tru doesn't want to get involved with a rock star, even if he is the hottest man she's ever met.
Trouble is, once Baz gets an erotic taste of Tru, he's not going to give her up. Now he just has to show her that rock-steady is nothing compared to rock and roll...
Buy link Amazon: http://amzn.to/1YhH8Kb
Kobo:
B&N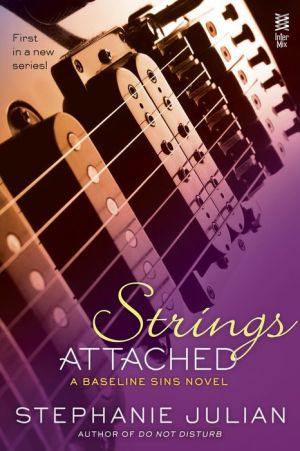 Strings Attached
by
Stephanie Julian
My rating:
4 of 5 stars
4.5 rocking stars!
I was on Netgalley looking for a new book to read. I stumbled upon this book Strings Attached by Stephanie Julian and the cover just spoke to me. Then I read the blurb and decided I would request to read it. I was excited to learn I was approved and started reading as soon as I could. I have to say I'm very impressed with what I read. I'm a fan of the rocker themed books and this one is going down as one of my fave's.
Trudeau (such a unique name) and Sebastian Valenti have a hate/no love relationship. Yes you read that right....NO LOVE. Tru HATES Baz with every fiber of her being. Baz does everything he can to piss her off. Apparently Baz hasn't left his middle school ways behind, LOL. And we soon find out that's exactly his play, he can't handle his feeling of attraction toward her so he is mean to her. But once he gets his head out of his ass and makes his play for her....OMG it's totally worth it!!!!
There is one scene that threw me for a loop and I thought for sure Stephanie was taking this book a whole other direction......but she didn't go for it. Once you read it, you'll know exactly what part I'm talking about. I'm hoping when she writes Nik's book we will get more insight into what happened. I'm guessing since this is a start to a new series each member of the band will get a book. I'm hoping so!
Stephanie's writing is spectacular and the story flowed extremely well. Strings Attached is a book you will not want to put down until the show is over. Baseline Sins will definitely be joining in the category of book bands to follow. So if you're looking for a new rocker book, Strings Attached is definitely one you will want to read.
View all my reviews