Reap
by
Tillie Cole
My rating:
5 of 5 stars
5 stars!!!
"I fell for our greatest enemy. I fell in deep, and gifted him all of my heart."
Last year when I read
Raze
, I went from a normal fan of Tillie Cole's to super fan girl status. It was one of my favorite books of the year. Then I get the sequel, and I'm nervous. Will it be as good as the first? Not as good? Better? While reading, I was so impressed with Tillie's writing, the characters and the storyline. I can say with absolute certainty that this book was just as good as
Raze
. I actually liked it more (which I wasn't sure was possible).
Talia Tolstaia is a Bravata Princess, the daughter of a boss, and the sister to Luka. She is strong willed and independent. Even though she's used to being alone, that's not the way she wants it. She wants love like everyone else.
I'm on my own, have always been on my own. I'd give anything to have that soul-shattering type of love. But how that'll ever happen in this life is beyond me. Who the hell's going to date the daughter of a Bratva boss?
Zaal Kostava doesn't ever remember being a name. Only a number. He's 221. But he had a life once, a family. And Luka feels he owes that family, one person in particular. Luka does what he has to do. He gets 221 out of the death fighting and tries to help him.
Talia never imagined this Kostava would be someone she would feel anything towards, someone she would show compassion too. The Kostava's have always been enemies to their family. There is bad blood there. It doesn't stop Talia from caring for Zaal.
Zaal cant' ever remember being cared for. He doesn't know what to think about this woman showing kindness towards him. She cares. Her caring makes him feel things he's never felt before. Instead of feeling rage, he feels calm when she's around.
Something inside of me cooled. The rage that always ran through my veins calmed. It was still there, I could feel it bubbling under the surface, but her warm hand had calmed it. I took a deep breath. There was no pain, no poison, just the feeling of her.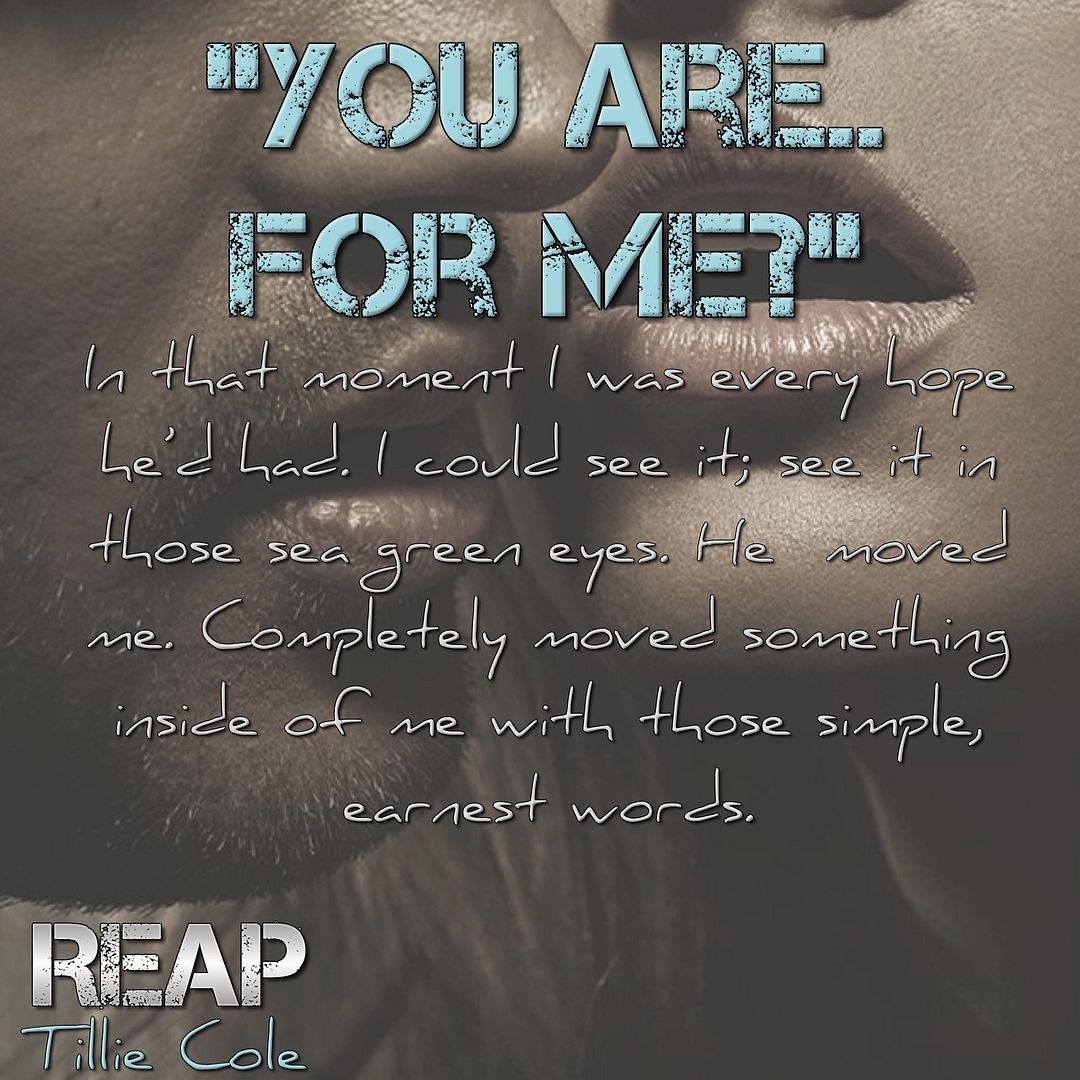 This story is connected to
Raze
in many ways and can in no way be read as a standalone. Not only do you get Zaal and Talia's POV, you also get some chapters that are Luka's POV and I think that adds a lot to the story.
Zaal was a character with such strength and beauty. Through all the torment he endured, he was able to move past that damaged past, sacrifice and survive. The fact that he is able to trust or love at all is baffling to me. Talia was also an incredibly special character. She was willing to put everything on the line for love and I adored her for it.
Reap
is a fast paced, highly emotional, beautifully written story of true love conquering all. It's raw, dark and gritty, but also stunning and romantic.
Reap
is an addictive book you won't want to put down. I can't recommend these books enough! Tillie Cole has an amazing series here and after that sneak peak into the next book, I think the best may be yet to come! I cannot wait for it!
"You are… for me. No other male. Just me. And me… for you. This is my 'I love you.' These are my words from my scarred soul. They are not borrowed words, but words from my full heart, and my heart only."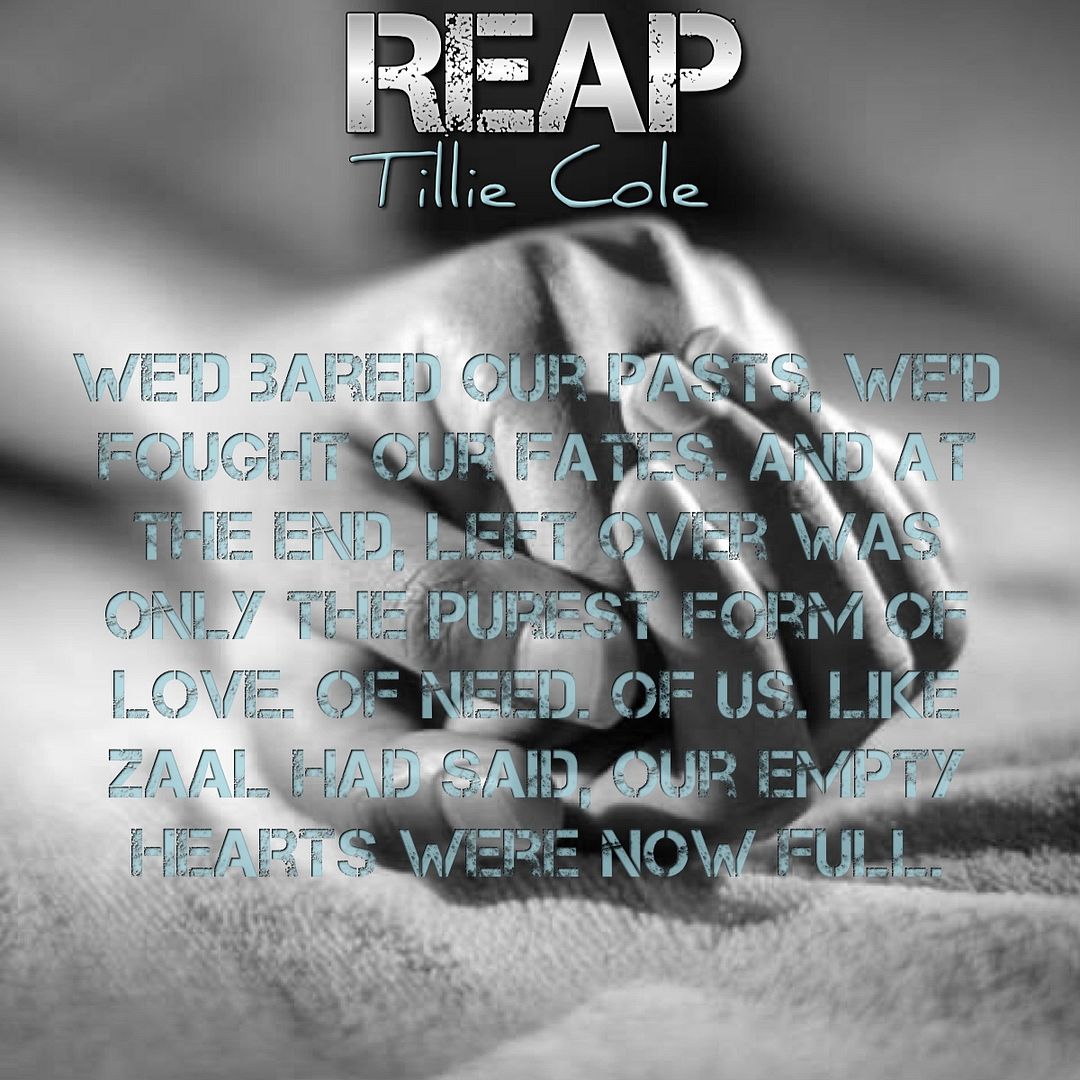 I was his universe. Like he was the Earth and I was his sun.
View all my reviews