BLURB
For Jake Wrigley, the future is bleak. Some people are survivors, but he's getting by on his bad-boy looks and charming smile. He owns a gym, gets into bar fights, and wrestles his demons with rough workouts—both in and out of the bedroom.
For Alyson Road, the future is bright. Life can only improve from where she grew up. She graduated at the top of her law class, cares for her ailing mom, and in her job, she defends those who can't afford anyone else. Her work is thankless but honest.
Jake's twin brother has been covering his ass for as long as they've been alive, but that all changes when Jake finds himself in front of the fiery public defender, his future in her hands. For the first time ever, he doesn't want to involve his brother, finally realizing he needs to stand alone, be his own man.
Even if Jake's never absolved of his past wrongdoings or his heart is never scrubbed of the blackness that resides there, he can do one good deed—protect the beautiful lawyer who touched his soul—until helping her nearly becomes his own undoing.
BUY LINKS
CHRISTY'S
REVIEW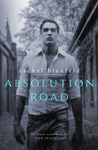 Absolution Road
by
Rachel Blaufeld
My rating:
5 of 5 stars
5 stars!
Absolution Road
is an emotional and stunning story of a broken man with a past he's trying to overcome, and a strong woman with a future she's worked hard to get to. Jake and Aly meet in an unconventional way. He's been arrested and she is his public defender. Jake made a mistake, but he's not a bad person. He's a man who's got a past that has scarred him. A past he can't ever seem to get away from. A past he's trying so hard to break free of.
There was no appeasing me. No amount of success, and no dirty fucks or heavy workouts were going to absolve me. I was still constantly seeking more, but I was clueless as to when it would be enough.
Aly keeps to herself. She has one close friend she went to law school with and she takes care of her sick mother. She doesn't get close to people. When she and Jake start running into each other, she is hesitant to get close to him of all people. But he wears her down. Jake see's a woman with strength in Aly, but he also sees someone he needs to take care of. Someone he wants to protect, to be there for. For the first time ever he sees someone worth trying for. He wants to try to be better for this girl, and that is a big deal for someone like Jake.
With this girl, I wanted something I'd never wanted before. To be a better man. For her. For me.
I loved both of these characters. Even though both of them had moments of weakness, they were both so strong for the other and carried them through the hard times. Aly was there for Jake when he needed her to lift him up and support him, then when Aly's hard times came, Jake had that strength to help her, to show her how much she was worth.
The end of this book blew me away. Not only was I shocked with that happened, but the emotions were overwhelming. The unconditional love that was shown made my heart soar. Even though there were some hard to read heart wrenching moments, by the end I was left with a huge smile on my face. My heart was happy. And I felt…. complete ;) Rachel Blaufeld did a fantastic job with this story. The writing was top notch. This was a total win for me and one I highly recommend.
EXCERPT
Leaning my chair back on its two rear legs, I couldn't help but laugh again before trying to contain myself. This chick and her soft demeanor were all business. Of course, she would be. Who else would work on Christmas Eve? I was pretty certain she could have made me wait until the day after Christmas to post bond, but here she was defending the public on the most holy night of the year.
Add a big heart to the brain, tits, and long legs I'd already noted in her plus column. Maybe I didn't want to bang her, but rather cherish this sweet thing? The reality of that seemed slim, seeing as the smart, good girls didn't go for me. Nor did I expect them to. I was the bad boy, and I had the guilty conscience to back that notion right the fuck up.
"Of course, Ms. Road. It's Jake, by the way. Just J-A-K-E. Full name is J-A-S-O-N, but I haven't been called that in twenty years." I mocked her spelling with my very own rendition, teasing the schoolgirl, looking for a reaction like I was in the third grade. "So, let's get down to brass tacks and get my ass outta here so you can head home to your . . . husband? Boyfriend? He must be waiting for a gem like you to come home to start the holiday, right?"
No harm in trying.
As I spoke, she narrowed her eyes and glared daggers at me. "Are you done with probing into my personal life, interrogating me? I'm pretty sure I'm not the one in jail."
Obviously annoyed, she followed that volley with another few leg switches. Left over right, right over left. I wanted to grab her knees and spread her limbs and dive in, let my tongue dig deep into her folds, make her let go of all that stuck-up bullshit she had going on while screaming my name. She probably tasted like sweet honey.
Rachel Blaufeld is a social worker/entrepreneur/blogger turned author. Fearless about sharing her opinion, Rachel captured the ear of stay-at-home and working moms on her blog, BacknGrooveMom, chronicling her adventures in parenting tweens and inventing a product, often at the same time. She has also blogged for The Huffington Post, Modern Mom, and StartupNation.
Turning her focus on her sometimes wild-and-crazy creative side, it only took Rachel two decades to do exactly what she wanted to do—write a fiction novel. Now she spends way too many hours in local coffee shops plotting her ideas. Her tales may all come with a side of angst and naughtiness, but end lusciously.
Rachel lives around the corner from her childhood home in Pennsylvania with her family and two dogs. Her obsessions include running, coffee, icing-filled doughnuts, antiheroes, and mighty fine epilogues.
Sign up for my
newsletter
for the latest news on releases, sales, giveaways and other updates.