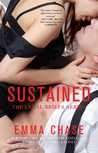 Sustained
by
Emma Chase
My rating:
4 of 5 stars
4.5 stars!
A knight in tarnished armor is still a knight.
Sustained
is a very funny, feel good, heartwarming read. Emma Chase is perfect at writing steamy stories that make you laugh out loud. Jake may be my favorite character of hers since Drew. Jake is a defense attorney. They guy who defends the criminals. He's also a playboy. But one scare makes him want to change his ways and start to date before sleeping with girls. Jake is the type of guy who isn't planning on settling down. He doesn't do commitment or relationships. Then he meets Chelsea and the six nieces and nephews she's recently been given custody too.
Chelsea's entire life was changed when her brother and his wife died leaving behind six children between the age of baby and teen. Now instead of grad school, she's changing diapers and taking kids to practices and school events. Guys aren't even on her radar right now. Until Jake comes into the picture. Chelsea and Jake were wonderful together. I loved the build up when it came to their relationship.
"Do you want me?"

"All the time. I can't remember not wanting you anymore."
Jake really is the best. He's so likable and seeing him with the kids was fantastic. That was probably my favorite part of the book. Whether it's getting the kids kicked out of piano lessons, playdates, teaching them how to fight or giving some unsolicited advice, it's guaranteed to have your heart melting and have you rolling with laughter.
"Riley, boys your age… are really not worth your time. They're selfish and stupid. It's not their fault; they're just programed that way- by they're still a lost cause. I think you should stay away from all of them until you're at least… twenty-five. Or… have you considered being a lesbian?"

She looks at me blankly. "That is so offensive."


I raise one hand. "Just trying to be helpful."
Jake and Chelsea's story is one I would highly recommend to anyone who's looking for a story that will make you laugh and make your heart happy! I love books with kids in them and Jake with the kids made this story. All Emma Chase fans should check this one out. This is her best work since
Tangled
. One of the most entertaining books I've read lately!
"You just make everything… better."