Title: Souls Unfractured
Series: Hades Hangmen #3
Author: Tillie Cole
Age group: New Adult
Genre: Dark Contemporary Romance
Release date: 11th August 2015
GOODREADS LINK
https://www.goodreads.com/book/show/22107214-souls-unfractured
AMAZON BUY LINK
BLURB
"For fractured souls are like magnets.
Drawn to collide into an impossible bliss…"
Labeled a 'Cursed' woman of Eve from birth, Maddie has endured nothing but pain and repression at the hands of The Order's most abusive elder, Moses. Now living with her sister in The Hangmen's secluded compound, finally, Maddie, is free. Free from the suffocating faith she no longer believes in. Free from endless years of physical and mental torment.
Just… free…
At age twenty-one, the timid and shy Maddie is content to live within the confines of her new home—safe from the outside world, safe from harm and, strangely, protected by the Hangmen's most volatile member; the heavily pierced and tattooed, Flame.
Flame.
The man who ceaselessly watches over her with his midnight dark and searing eyes. The man who protects her with a breath-taking intensity. And the man who stirs something deep within her numbed heart.
But when circumstances conspire for Flame to need HER help, Maddie bravely risks it all for the broken man who has captivated her fragile soul.
The Hangmen's most infamous member, Flame, is ruled by one thing—anger. Plagued by haunting demons from his past, an all-consuming rage, and isolated by an abhorrent hatred of being touched, Flame's days are filled with suffocating darkness, pierced only by a single ray of light—Maddie. The shy, beautiful woman he cannot purge from his thoughts. The woman he has an overwhelming need to possess…
... the only person who has ever been able to touch him.
Flame's mission in life is to protect Maddie, to keep her safe. Until a trigger from his troubled past sends him spiraling into madness, trapping him in the deepest recesses of his disturbed mind.
His Hangmen brothers fear that Flame is beyond saving.
His only hope of salvation: Maddie and her healing light.
CHRISTY'S 5 STAR REVIEW!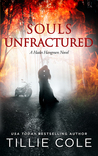 Souls Unfractured
by
Tillie Cole
My rating:
5 of 5 stars
5 stars!
Tillie Cole is one of those authors I can always count on to make me feel when I read. She does an amazing job of writing tortured characters with emotional and beautiful stories.
Souls Unfractured
may be her most emotional book yet. Although I knew it would be. After hearing about the things Maddie (Mae's sister) went through in the previous books, I knew her story would get to me. Pair that with Flame, who's past may have been even more horrid and you'll have a book that will keep your heart hurting, but in true Tillie fashion, it will be healed by the end of the book.
Flame is one of those characters who I had to know about after reading the first two Hades Hangman books. He's different than the rest of the Hangmen. He's a little more violent, a little more quiet and there is something different about him… he can't be touched by anyone. Not women, not his brothers that he trusts. He can't cope with that.
He and Maddie have that in common. Maddie grew up in the same religious cult as Mae and Lilah. The man who had her was extra violent and terrible and has scarred Maddie. Men make her nervous, even good men. All men. All men, except for Flame. He saved her and she isn't afraid of him.
"I did not fear you. I fear a man's touch. I find it abhorrent. But not yours. I wanted to embrace you that day. I needed to. Even if we cannot ever embrace again."

She dreams about being with Flame, about touching him. Even the most simple thing, like holding hands would mean the world to her. And this is not one sided. Flame wants more than anything to be able to touch Maddie. To be there for her when he needs her, to be able to hold her, but he's not sure it's possible. He cares too much for her to ever hurt her the way he feels he will if she gets too close.
Maddie and Flame are characters who grow together, who go through hell together, and who heal together. Watching their story unfold was such a beautiful and emotional experience.
"I know I'm different. I know I don't see the world like everyone else does. But I want to see your world, Maddie. Even if it's the only one I'll ever understand."

I loved these two broken characters so much. I rooted for them. I was proud of them when they overcame things that were hard for them. Their story was not easy to read. Especially Flame's. I could tell pretty much straight away why he was the way he was and knowing how he was treated growing up made me sick to my stomach. It's not an easy read. But by the end, it's so worth it. Maddie and Flame's love story is worth all the heartache.
"I understand you Flame. And I am beginning to understand myself. What you and I are to each other."

"And what is that?" I asked gruffly.

Maddie bowed her head. "Everything."

My heart missed a beat, then she lifted her head and said, "Love."

Maddie's hand dropped over her racing heart and she whispered, "You, to me, are the only one I could ever love."
Maddie and Flame are characters that touched my heart and ones I won't ever forget. Not only did we get to know so much more about them, but we also got more Ky and Lilah, Styx and Mae and getting to know AK and Viking makes me want their books next! I love the friendship and brotherhood they had with Flame. And call me crazy, but I'm dying to know whats going to happen with Cain as the series continues…
Souls Unfractured
is another fantastic addition to the Hades Hangman series. These books are so much more than just biker books. They are stories of overcoming adversity, healing old wounds, moving on from the past and letting love conquer all. Tillie Cole is a favorite author of mine and books like thing just solidify that. Full of a beautiful intensity, her words move you, make you feel, break you apart, then heal that broken heart. This was a real win for me and I'm looking forward to reading the next book in this series!
"I used to wonder how two people- one broken girl, and one broken boy- could ever move on from their dark and tortured pasts. But now I know. Together, that's how. They fight their way through… together."
AUTHOR BIO
Tillie Cole is a Northern girl through and through. She originates from a place called Teesside on that little but awesomely sunny (okay I exaggerate) Isle called Great Britain. She was brought up surrounded by her English rose mother — a farmer's daughter, her crazy Scottish father, a savagely sarcastic sister and a multitude of rescue animals and horses.
SOCIAL MEDIA LINKS
GIVEAWAY