Before We Were Strangers
by
Renee Carlino
My rating:
4 of 5 stars
4 stars!
To the Green-eyed Lovebird: We met fifteen years ago, almost to the day, when I moved my stuff into the NYU dorm room next to yours at Senior House….
I love stories about first loves. I love stories that go from past to present. And we all know I love Renee Carlino's writing. I read
Sweet Thing
when it first came out and have been a huge fan ever since. This book had so many elements that I loved
(view spoiler)
[ and if it wasn't for my HUGE issue with one bit of miscommunication it could have easily been a 5 star read for me: I'm sorry, but Grace… I'm not buying that you couldn't get ahold of him for 15 years. I know you tried, but you knew his mom's name, number, and address. And his father and brother were attorneys with their own practice. With news that dire, there would ALWAYS be a way to get info to him. And I felt like he was robbed… and it hurt my heart. Rant over ;) LOL (hide spoiler)]
and even with the issue I had, it was still a beautiful, emotional and captivating read that I would recommend.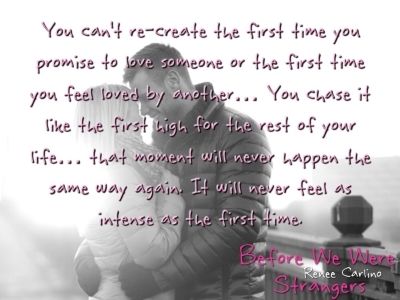 Grace and Matt's story spans 15+ years. I would say close to half the book is written from the past, and the other half, the present. I'm not going to lie- I loved the past chapters. Watching Matt and Grace fall in love, seeing their younger, free spirit and artistic selves made my heart happy. All the past scenes were fantastic. Matt and Grace became 'fast friends' their senior year at college. Matt is a photography major, and Grace majors in music where she plays the cello. Their fast friendship quickly turns into more. Their breakfast for dinner, impromptu photoshoots, concerts, and all around fun times show a happy and completely in love couple.
When it comes time for graduation, things become difficult. Matt has a once in a lifetime opportunity to intern with National Geographic for the summer. And be away from Grace for months. And Grace has an opportunity to travel with an orchestra for a year and a half. Their lives are going in different directions, but both are determined to stay together.
Fast forward 15 years….
Time passes, life goes on, places change, people change. And still, I couldn't get Grace off my mind after seeing her… Fifteen years is too long to be holding on to a few heart-pounding moments from college.
There were things I loved about the present as well. Aside from the miscommunication, it was great to see Grace and Matt reconnect again. They are both endearing characters. I love how they both never had anything like their first love. Their love for each other. It's a romantic concept. Falling fast and hard and never truly moving on from the first love, the love of your life. Throughout the book, I rooted for these two. I desperately wanted them to have their happy ending.
If you're looking for a fantastic first love story, a second chance romance story, a friends to lovers story, or a beautifully emotional story-
Before We Were Strangers
is the book for you. Renee Carlino's writing and character development is wonderful. The end left me with a happy heart and a smile on my face.
"This is our time. You're the love of my life. I fucking love you, Grace. I've always loved you. I loved you when I wasn't with you, and before that, and right now."
View all my reviews