Warning: Graphic sex and violence. Age 18+ only
It is recommended to read after Deliver, but it can be read as a stand-alone.
Her life is like a prison cell.
A self-made, to-hell-with-the-free-world existence that locks from the inside.
Stop judging. Her agoraphobia doesn't define her. It simply keeps her safe.
He belongs in a prison cell.
The 6x8, make-me-your-bitch variety that locks from the outside.
But he's free. To hunt. To take. To break.
And he just found a sexy new toy.
Capturing her is the easy part. Her fucked-up mind, however, makes him question everything he does next.
But he's a determined bastard. If all goes his way, this will hurt like hell.
Christy's 5 star review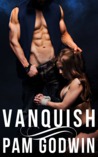 Vanquish
by
Pam Godwin
My rating:
5 of 5 stars
5 stars!
First things first, this was brilliant! I have been a 'Van fan' from the beginning and his book didn't disappoint! Before I start my review, I know a lot of people are going to wonder if you can read
Vanquish
as a stand alone. The answer is yes. The author puts it in the best way-
Vanquish is a stand-alone, BUT if you intend to read the first book, Deliver, DO NOT read Vanquish first. There are numerous references in this book that will spoil the surprises in Deliver. If you don't plan on reading Deliver, carry on.
Deliver is a book I would highly recommend, so I say don't skip out on it!
When I first read
DELIVER
by Pam Godwin, I was one of the weird ones that
loved
Van. Yes, he's a messed up guy with tons of issues and he's done a lot of terrible things, but I felt like he did some of them with good intentions. Am I delusional for loving him? Maybe. But I don't care. He's kind of hard to resist…
Van is dark and dangerous. He would seem to some as more of a villain than a hero. I'm not going to sugar coat it- Van has done some bad and unforgivable things in his past. He is not a 'good guy'. But for the few people he loves and cares about, he would do anything for them. Van has been working up to something important. He has a plan and he's trying to figure out a way to go about working his plan. He needs more info. To do that, essentially spies, or stalks on someone… In the process of doing this, he meets a girl named Amber. He can tell straight away something is 'off' with Amber.
What was wrong with this girl? The intensity of her fear resonated deep within the depraved part of his being. It was as intoxicating as her beauty, but where did it come from? What was she afraid of?
Amber suffers from agoraphobia. She is self-confined to her home. She is more afraid of being out there than anything. Even if it means being in her home with someone like Van.

Van knows Amber has issues, but there is something about her that makes him want her. Plus, he could use her to help him with his ultimate goal. He knows maybe he shouldn't… but he can't help himself. He has to have her.
He should leave the poor girl to deal with her demons, but instinct demanded he take control of this… of her.

Amber hasn't had an easy life. The last two years have been hell. More than that really- with an emotionally abusive ex, along with all her other issues, someone like Van barging into her very structured life is the last thing she wants or needs. Even with all the bad and crazy, Amber sees something in Van. Something that makes her want to stay.
She glanced over his shoulder and took in the menagerie of brokenness with new eyes. It was tragic and beautiful and inspiring.
Pam Godwin has a way about writing damaged characters to perfection. Not only did she give us one damaged main character, but we got two. And it worked. Van and Amber have a ton of issues between them, but in the end, are able to help each other with them. Van's way of helping Amber was far from conventional… but his heart is in the right place. I think ;)
Every time I hear Pam has a new release coming out I get all kinds of excited, knowing it will be dark, sexy and unique. She's a brilliant story teller who is exceptional when it comes to writing raw and gritty and putting in the best twists and turns.
The writing was captivating, the story completely sucked me in with it s original and somewhat disturbing story line. It was intense, erotic, emotional and thrilling, but overall- it was a story of overcoming obstacles. Of taking people the way they are, loving not just the good parts of them, but the fucked up parts too. It may push your boundaries at times, but some of the best books do. I fell for Van even more in this book and I loved Amber as well. This is a book, an author, and a series you won't want to miss out on. It comes very highly recommended by me!!!
Because I like you, too.
View all my reviews
He stalked toward her, mirroring the tilt of her head, knees and shoulders loose, and his gaze holding her prisoner. A breath away, he paused, soaking in the subtleties of her tipped-up chin, parting lips, and glossy but resolute eyes.
With the next breath, he launched, hands on her jaw, fingers spread around the back of her head.
His elbows dropped, shoulders raised, and he yanked her to him, lifting her on tiptoes, guiding her mouth, taking it. His grip twisted through her hair as he drew in her upper lip and shoved her against the fridge, following her with the weight of his body.
The kiss went fucking wild, their lips mashing in a frantic battle. His tongue plunged her mouth, attacking, thrusting in and out, possessing her movements, owning her. Breath for breath, lick after lick, he ate at her mouth, tasting, devouring.
He dropped his hands to her breasts, squeezing ruthlessly as he rolled his cock against her cunt.
His tongue tingled, his skin burned, and his head swam. God, she was a drug, and he was so fucking high.
She gripped his biceps, bit at his lips, and threw her arms over his shoulders, her fingers scratching the fuck out his back. He shuddered, loving it, but he was in control.
Reaching back, he grabbed her wrists and slammed them above her head. Their bodies ground together, his forearms pressing hers to the fridge, their tongues dancing and clashing. Chest-to-chest, hips fused together, he flexed his ass, dry humping her like a horny teenager.
Jesus, fuck, he didn't care. He wanted her.
He leaned back to study her face and found strong smoldering eyes, sharp breaths, and swollen wet lips. Whatever she saw in his expression made her mouth chase his and her fingers curl around his hands. They kissed endlessly, fueling the fire and pushing his control long past the point of discomfort before pulling back and starting all over again.
When he broke the kiss with a hand on her jaw, they panted as one, mouths open and so close their bottom lips brushed. She peered at him through lowered lashes, and he stared back in awe. What trembled between them wasn't an
if
? Or even a
how hard
? Those were foregone. The question they shared was simple.
ADD TEASER PICTURE HERE
New York Times and USA Today Bestselling author, Pam Godwin, lives in the Midwest with her husband, their two children, and a foulmouthed parrot. When she ran away, she traveled fourteen countries across five continents, attended three universities, and married the vocalist of her favorite rock band.
Java, tobacco, and dark romance novels are her favorite indulgences, and might be considered more unhealthy than her aversion to sleeping, eating meat, and dolls with blinking eyes.
Other Books by Pam Godwin