Beats
by
Kendall Grey
My rating:
5 of 5 stars
OMG Holy Motherfucking Shit I fucking loved it Stars :)
I adore Kendall Grey, I just love her wicked sense of humor, her compassion, her passion for her readers, and just because she is one kick ass person. I fucking loved Strings, but Beats...it fucking consumed me! It was the perfect blend of romance, hot steamy sex scenes, and crude humor.
Toombs...sigh...Toombs is fucking mine! Don't anybody even try to mess with my man! You can just call me Jinx from now on!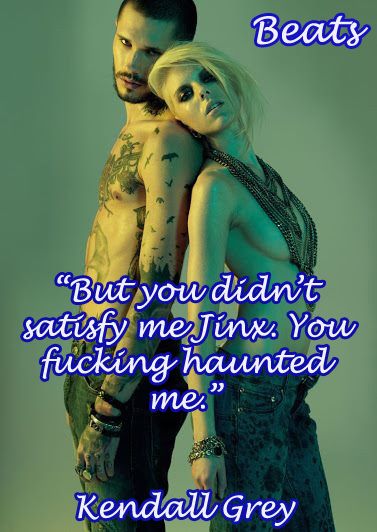 I am
VERY
interested in Toombs "package" I am kind of afraid to google the pearls because it may make me blind, but I am interested in how exactly that works...and how that makes the sex for the woman.
"I'd carry you up a mountain, through a desert, across an ocean. Anywhere you go, I'm there to hold you up, baby. "
And Letty's 12 step program was off the charts hilarious! But she made some very good points, most of the time. My absolute favorite quote from Letty was
" The way to a guy's heart is straight through his dick. Once you conquer the cock, his soul is a piece of pecan pie drizzled with cum, begging to be savored."
If you read and loved Strings you for sure want to pick up Beats, it was 100 times more than what I expected. Kendall gets the full 5 star rating for Beats and I can't wait for Rax's story!
View all my reviews
Buy links
Amazon
B&N
Author stalking links
Website
Facebook
Twitter