Perfect Regret
by
A. Meredith Walters
My rating:
4 of 5 stars
★ 4-4.5 Stars ★
We meet Riley and Garrett in Bad Rep. Riley Walker is Maysie's best friend and spunky, snarky roommate. Garrett Bellows is the guitarist for Jordan's band. He is a townie, known for getting high, throwing parties and hooking up. Oh but there is SO much more to Garrett than meets the eye!
The first time Garrett met Riley, he knew. He knew she was something special, a challenge. There was something about her feisty attitude he liked. Riley is a little (understatement) judgmental of Garrett. She only see's the musician with no ambition when she looks at him.
Looking at him standing in front of me, I couldn't see past the blood shot eyes, messy shirt, and torn jeans. And I didn't want to either. Garrett was who he was and I knew without a doubt that we were never destined to mix.
Little does she know the things that have happened in his past, things that have shaped him. Made him into the man he is today. Riley and Garrett see each other occasionally, but she spends a lot of time with her boyfriend, Damien. Damien dumps Riley. She is a bit depressed, but Garrett tries to help get her out of her funk.
"If he could let you go, he's a fucking moron. Not worth the mud on your shoes. You are so much more that that."
After 'hooking up' with Garrett, Riley has mixed feelings about him. He gets under her skin. She starts to see glimpses of the
real
Garrett, but she is still so inside of her own head. Garrett is so sweet to Riley, even when she doesn't deserve it.
Riley is so focused on herself, her schooling, potential career etc. Riley can be very hurtful. Some of the things she said to Garrett and their interactions broke my heart.

Garrett and Riley seem like total opposites. But when Riley has to deal with a family emergency, Garrett is the one who is there. Who stays with her, helps her cope. They realize they may not be quite as different as they thought. Garrett has a fragile heart. He doesn't let many people in for a reason. He's willing to let Riley in.
And what does she do with that... she stomps all over his precious little heart.
"I just wanted you, to just once, look at me as the guy who would give you the world. And for that to be enough."
Riley never means to intentionally hurt Garrett, she lets her inner bitch come out way too much. She doesn't always see things the right way. It takes someone who can make her see things in a new light for her to realize what she had and what she lost.
"Have a life that matters. A life with purpose. Find your own way but don't lose sight of the journey."
Riley and Garrett are both a little lost, but they may each be the missing parts of each other.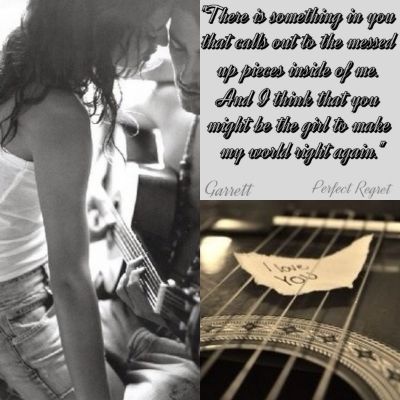 Riley is smart, but she is also a smart ass. She thinks too much, and only with her brain. Never with her heart. Garrett is a very complex character. What you see isn't what you get in the very best way. The more I saw the real Garrett, the more I loved him.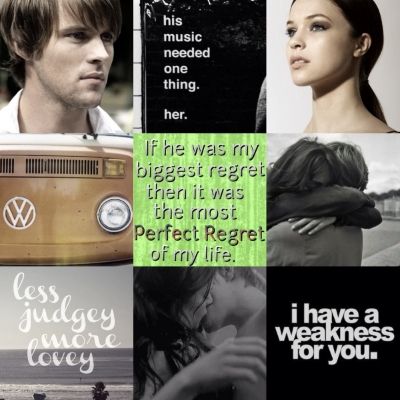 "I want you so deep in my life that you can't ever leave."
Personally, I enjoyed this one a bit better than Bad Rep. For one reason. Garrett. A sweet broken soul. He made me swoon, melted my heart. The main reason this wasn't a five star read for me? Riley. Riley grew on me by the end, I was happy she grew as a person and made some better decisions, but some of her choices early on had me wanting to give her a good slap. She was straight up mean. In the end, I was happy with her transformation.
Full of drama, angst, add in some heart broken moments and some heart warming moments, some sexy and a bit of sweet and you have Perfect Regret. There will be frustrating moments, tearful moments, happy moments, your emotions will be all over the place. I did enjoy reading this book. It was good to catch up with Maysie and Jordan, and I look forward to the next book in this series. And lets face it... this is from the author that brought me Clayton Reed- and I will pretty much read anything she writes! This is one I would definitely recommend!
**ARC kindly provided by author in an exchange for an honest review**
View all my reviews
PURCHASE links:
Amazon-