Real Ugly
by
C.M. Stunich
My rating:
4 of 5 stars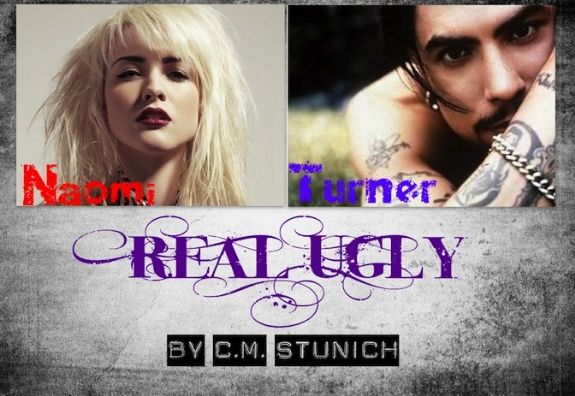 The title to this book is pretty fitting. This isn't a sweet, romantic story. This is a hardcore rocker's story. It's intense, it's gritty, and it's ugly. It's also highly entertaining!
Real Ugly. That's life. Fucking hideous and hateful and bloody. I wish I could see it otherwise.
Naomi Isabelle Knox. Lead guitarist from Armory Riot. Twenty-three years old. Hot as hell. Mean as sin.
Naomi is a rockstar and a bad ass. She is on tour and so is Turner Campbell. Turner is a man from her past, but he doesn't remember how he knows her. Naomi has secrets. More than one. But one involves Turner.
Maybe its the fact that Naomi doesn't seem interested in him, but Turner can't stop thinking about her. He could pretty much have any girl he wants, but he wants Naomi. She is a bitch to him, gives him attitude, but I think that just makes her more endearing to him. I love her response when he asks her out...
"Give me one good reason I should go out for drinks at two in the fucking morning with some asswad who cares more about his eyeliner than he does about the women he sleeps with?"
Skeletons start coming out of Naomi's past from all around...
Most secrets are never left buried.

But no one understands why she's done the things she's done.
Naomi and Turner are freakin' hot together! And what about that bathroom scene? It probably should have grossed me out but it was sexy as hell! Turner wants Naomi, Naomi has the ultimate love/hate relationship with Turner...
Then theres that ending... All I have to say is W.T.F... Seriously. Talk about a crazy cliffhanger! I mean, not only does something CRAZY happen at the end, I still have some questions I need answers to!
(view spoiler)
[Did the crazy foster sister do this? I'm pretty sure Naomi's alive, but who is the other blonde that got zipped in the body bag? I'm confused and I want to know what happens!!! (hide spoiler)]
I just REALLY hope we don't have to wait too long for the sequel. I love CM Stunich books. They aren't light, fluffy, or sugar coated. They are raw and often intense. I am SOOOOO ready for the second book!
**ARC provided by author in exchange for an honest review.**
View all my reviews